Funny Irssi theme!
Posted by Geert on April 24th 2006
Today when I opened my mail client I was surprised by a "new theme", I looked at it and saw a GTK2 Java development IDE which some interesting Irssi/IRC embedded into it.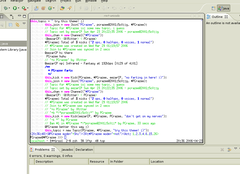 I have to admit that this is the most funniest Irssi theme I've seen so far. It's amazing what people can do to reach their goals (or to hide their client @ work :p).
The c0ders theme has been added to the themes page. We will add the other submitted scripts and themes when we start working with Google's Summer of Code.
Hint by the author:
It comes in real handy at work, where not every should see on the first look that i'm actually chatting ;)
The Irssi Team